Facebook Now Meta? Introducing The Fully Immersive Polker Metaverse
Ahead of the highly anticipated launch of its play-to-earn game, Polker has is set to begin the rollout of its metaverse. The term "Metaverse" has gone viral in the last week since Facebook announced it would be rebranding to Meta and that the Facebook platform would be developing into its own Metavese. Polker was a Metaverse project long before Facebook jumped on the bandwagon, and they are now prepared to demonstrate just how immersive their metaverse project will be.
Enter The Polker Metaverse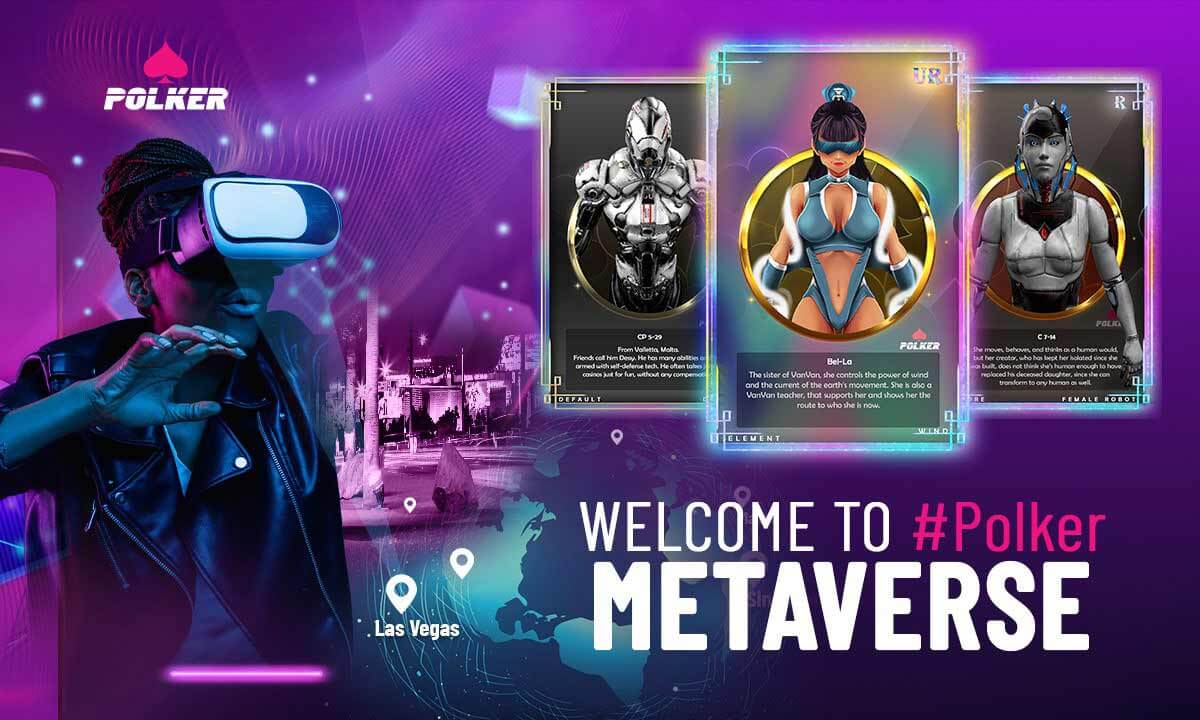 Polker's metaverse is going to be an immersive and innovative virtual experience that will provide endless possibilities for users to explore innovative features. Users will be able to access a next-generation poker game with a realistic gaming environment combined with the highly successful Play-to-Earn model. 
Within the metaverse, users will be able to interact with each other in a PvP manner. Polker's gaming platform is the first to be powered by the Unreal 3D Engine 4. Unreal 3D Engine provides a virtual reality setting, and all assets within the game are in 3D VR Reality models. Bringing blockchain and Unreal Engine together really sets this metaverse in a league of its own.
Users will also be able to edit the graphics around them and create their own world. This is exciting as they get to have a personalized gaming experience. Polker is able to achieve this by wrapping high detailed textures on low poly models to create realistic graphics and good performance within its gaming metaverse.
Polker metaverse will be the first of its kind to integrate NFTs rewards within its gaming system within such a uniquely immersive platform. Users can earn NFTs when the play to access more features. Each NFT has its attributes and can unlock special dealers. New game launches, exclusive tournaments, and more are all to come within the Polker Metaverse.
Polker metaverse will also integrate the latest A.I deep learning techniques for in-game characters to create animation/interactions based on players' actions to provide a real-life feeling of virtual reality. Polker has revealed that the VR experience will be integrated by Q2 2022. Oculus owners be prepared!
These teasing glimpses of Polker's metaverse are sure to excite users ahead of the launch of the play-to-earn game.
The Polker Metaverse – Video Preview

Premium Billionaire's Game Room 
Polker testnet game will feature a special luxurious gaming room called the''Billionaire's Game Room. Players will be able to play against each other using the avatars and names of some of the elitist personalities including Jack, Elon, Trump and KIM. 
Polker's Billionaire's Game Room is shrouded in secrecy, and there are exciting features that will be unveiled in the future. Polker has already released the first episode of the Billionaire Polker Tournament…. Episode one was released..

Preparing For The  Polker Metaverse
Polker's native token PKR has seen a steady upsurge throughout Q3 and Q4 and with the launch of the beta 'Testnet Game' coming up and the allure of the metaverse to come the value of PKR is only going to increase. PKR will be used within the game to buy PKR passed which will enable users to access the play-to-earn model that Polker's metaverse is focused on.
PKR can also be staked with an APY of 36% on the Ethereum main net here. Staking of PKR will be available on Binance Smart Chain later in the year – so for those who don't want to bridge to Ethereum, the opportunity is not missed. Investors can purchase PKR at Uniswap on the Ethereum network and PancakeSwap within Binance Smart Chain. In addition, PKR has also been listed on the centralized crypto exchange BitMart with rumours of much larger exchanges to come very soon.