PKR PASS
A simplistic system unlocking the play to earn potential of Polker. If you want to start earning NFTs and playing in tournaments, you'll have to get the pass. The pass is a tiered system unlocking different perks and benefits which is used to increase the amount of time per week you can play without running out of chips.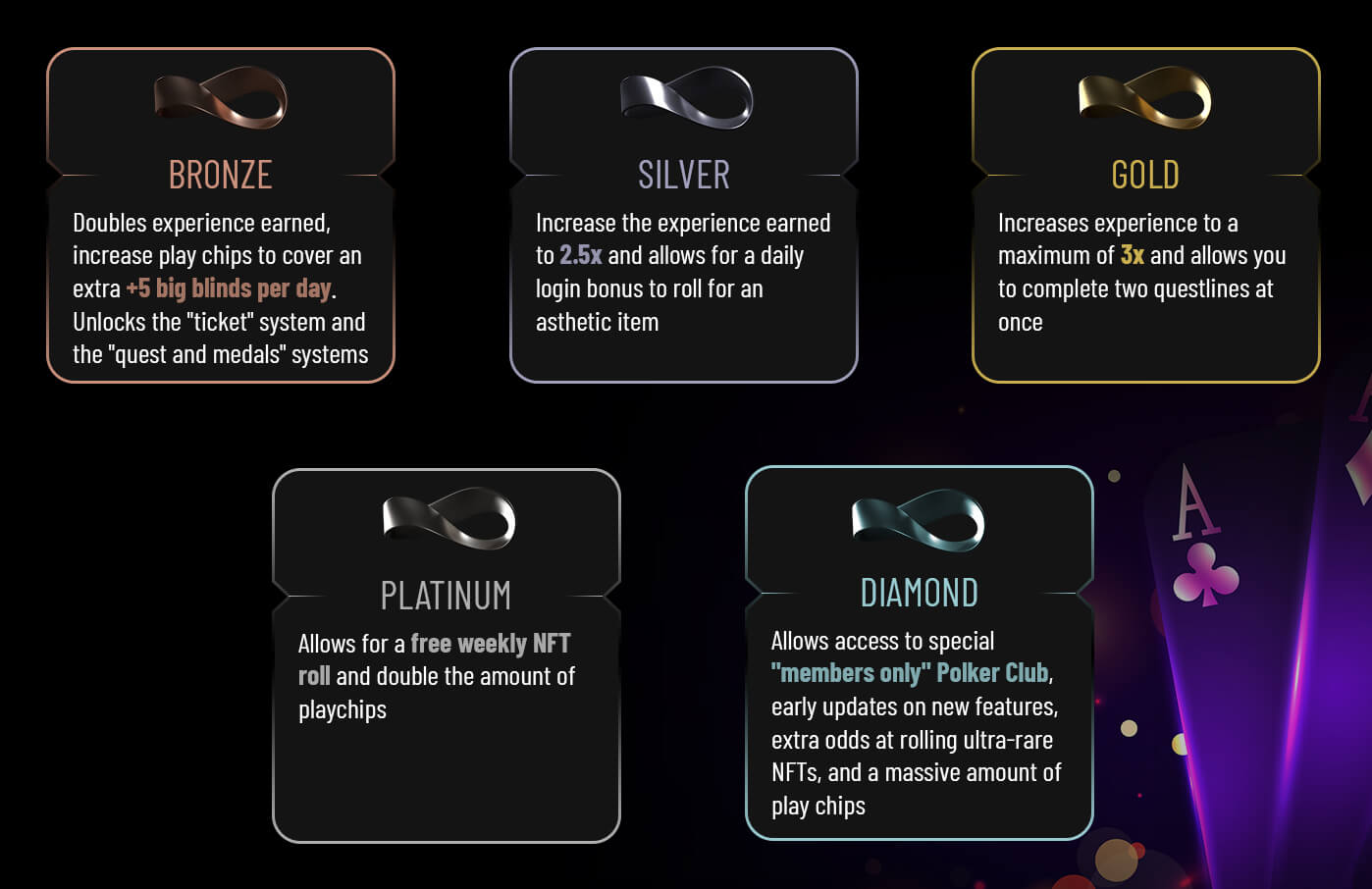 PKR TICKETS
Following up from the pass, the unlocking of a ticket system is the resource required for earning potential through Polker. Tickets will be earned through playing the game, completing quests, sharing your game or any information about us on social media, and tournaments against other players. With playing the game and post sharing there will be a cap on how much you can earn daily, but tournament winnings are uncapped. Playing in a tournament is where the spirit and inspiration of poker comes into play. A n where winner takes all. There will be options for lvl play, and all table play, consisting of 9 players. Earning tickets leads to rolls for assets like dealers, tables, backgrounds, and accessories, but also our coveted NFT system. We have multiple tiers for people to earn which are listed below.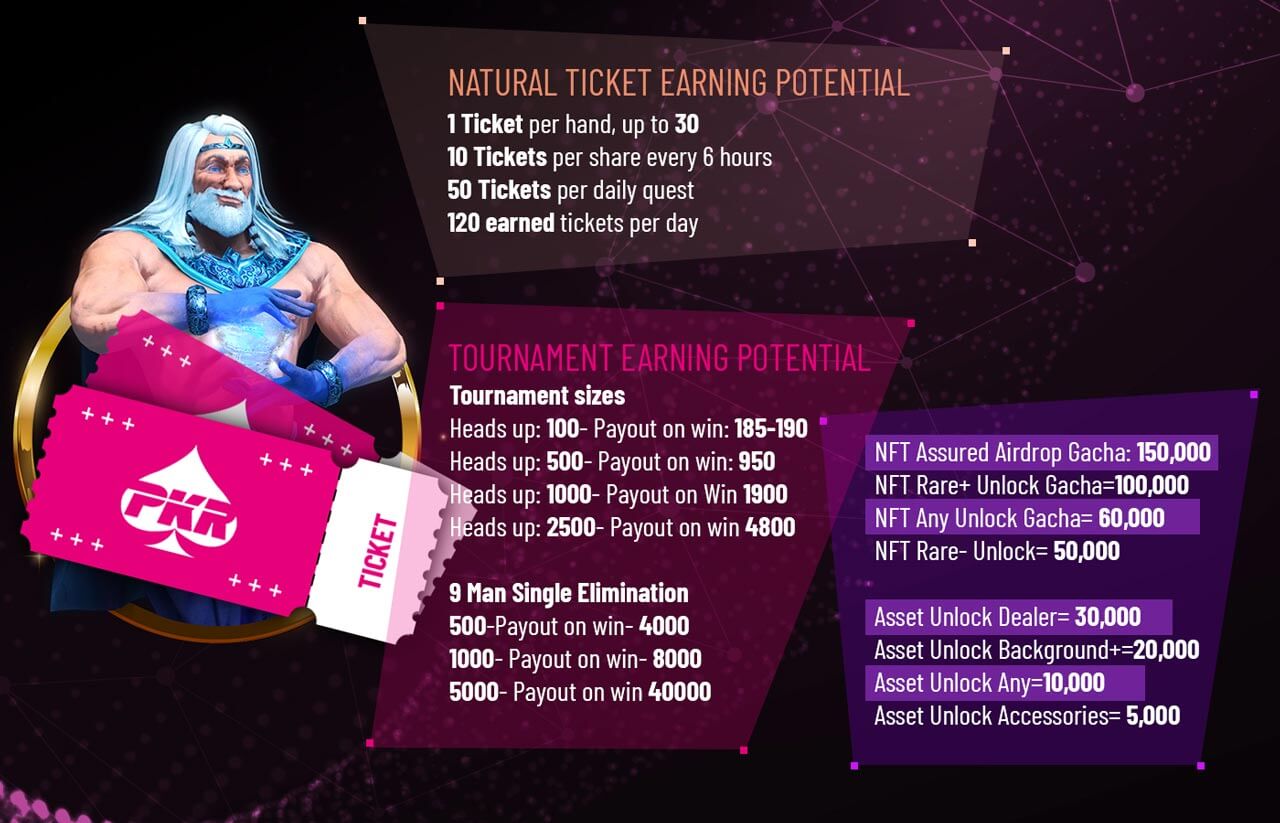 MEDALS AND QUEST
Our final earning system allows for daily, weekly, and seasonly tasks and challenges to be completed in game, offering reward incentives of in game currency for each. The system is called "Quests" and some can be completed on their own, and others in a series. Some Examples are given below: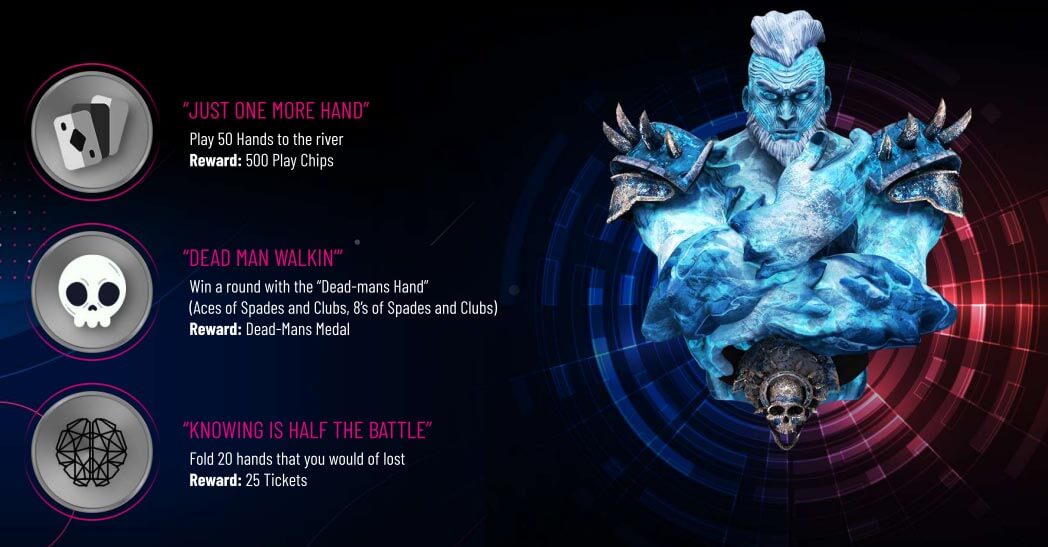 Medals can be used to unlock NFT's and show prestige. Above is a quest to gain the Dead-Mans Medal. It is a rare medal but is always available to gain. Other medals may only become available in intervals of 6,12, and 24 hours but are far easier to complete. After gaining 10 medals, you can redeem them for a chance at an NFT from Polker's current pol. Once you trade the medals, they cannot be earned again until the PKR-Pass expires. Medals can be kept and shown on a players profile in game as well, to show off achievements.
This is our current work in progress for our Play-to-Earn system, everything shown here we hope to have in your hands soon, and if you have any questions in particular, you can join us on telegram, twitter, and discord. We host community events 3 times a week in our telegram, so be sure to join in on the hype!