Polker is proudly sponsoring Polycon 2021 — The biggest expo of all things Polygon!
We have our own exhibition for all things Polker related. However, we want to offer 500 members of our community — its current members and newcomers alike — a chance to win some free $PKR.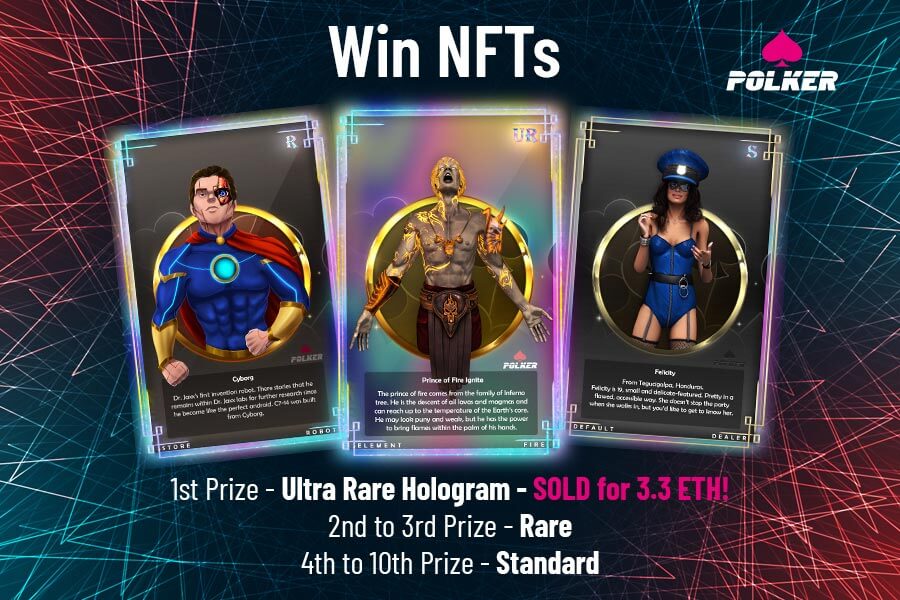 What can I win?
1st prize = 1 x Ultra-Rare NFT — Previously sold on OpenSea for 3.3ETH!
2nd and 3rd Prize = 1 x Rare NFT
4th to 6th Prize = 1 x Standard NFT
1st to 500th prize = 50PKR!
How can I win?
The bigger the buy, the bigger your chances! The rules are quite simple, all you have to do is make a buy of PKR from either UniSwap or PancakeSwap and then fill in this google form!
The form will ask for the following:
Number of PKR tokens purchased, Chain (Ethereum/BSC), and TXID.
One transaction per entry.
NFT will be sent to the purchasing wallet — so don't steal someone else's Tx!
The bigger the transaction — the bigger the chances of winning one of the NFTs.
Multiple entries ARE allowed — however, you will only receive the 50PKR once.
The competition Starts at 13:00EST Thursday the 16th — Ends at 13:00EST Friday the 24th.
Transactions will only count within the competition times in Rule 5, previous buys will not be acknowledged
PKR Tokens in the amount purchased must still remain in wallet at end of contest
About Polycon 2021
Polycon 2021 is a supper immersive 3D world that is going to be the home of all things Polygon for three days. QuickSwap, PolyCat, and of course us — Polker — are among the 75+ Polygon projects who will be at the event. The event will include all of the following and more:
Expo halls
Mini-games
Product demos & sponsor showcases
Networking
Gaming
Video, voice and text chat
Panels/AMAs with Top Influencers & Projects
NFT Airdrops & SWAG booth
NFT Giveaways & Auctions
Polygon Awards Ceremony
Much more to be added…