Polker, an online blockchain poker game, is delighted to announce its arrival into the crypto sphere. Polker uses Unreal Engine 4 to create a powerful, immersive gameplay experience where players can bet in dozens of different cryptos. By utilizing blockchain technology, Polker gives players a poker game that is provably fair.
The world of online gambling is one that should prove quite attractive for crypto investors (for obvious reasons). Polker will show that the gambling industry is just one more that's ready to be decentralized.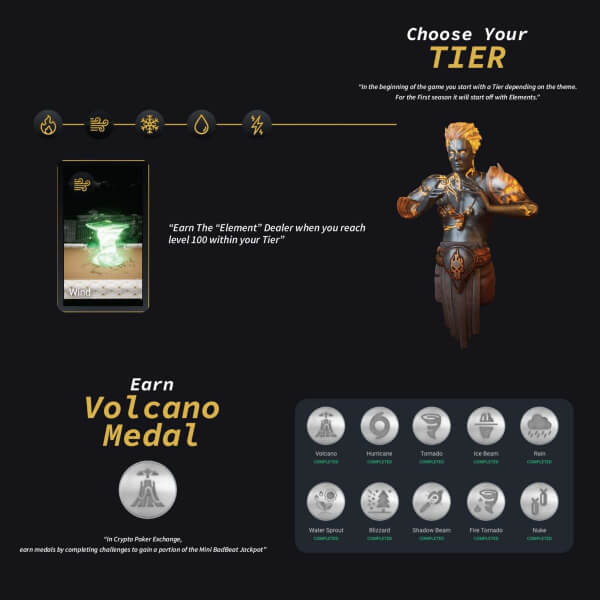 Blockchain and the Future of Online Betting
Online gambling and gaming have seen an explosion of growth over the last few years. The industry generated $52 billion in revenue in 2018. That number is expected to increase to $127 billion by 2027.
The world of gambling is one that naturally breeds suspicion. This is especially true for online gambling. Players are asked to put a huge amount of trust into the centralized bodies that control the games yet there have been huge amounts of fraudulent sites, unfair gaming and rigged betting. Stacking cards in the house's favor is easy to do and difficult to detect. Even when sites claim to be provably fair, their code is easy to manipulate temporarily to gain an edge.
There are plenty of regulations for online gambling sites, it's true. However, these regulations do not apply in every country. Less reputable sites based in unknown corners of the world have taken customers' money and left them with no legal recourse. For that reason, it is difficult to know exactly how trustworthy a card game is online.
Online gambling is an industry that can never have enough transparency. This is why the application of blockchain to online poker is such a no-brainer. Blockchain is synonymous with transparency. By utilizing the Polkadot blockchain, the Polker platform stores all gameplay values in smart contracts. This ensures there is no foul play or house edge. It provides absolutely provably fair gameplay for all players. Polker also utilizes a True Random Number Generator (TRNG), which adds to transparency and fairness of this gaming system.
Cryptocurrencies will provide the stakes in Polker, with players able to lock in the value of a coin of their choosing during gameplay. Players are not limited to using one coin per game and can change up their betting currency as the game develops. In a game as psychological as poker, this provides many opportunities to disrupt an opponents playing process. Polker also allows players to then convert their winnings to their preferred coin by using a uniquely integrated approach.
The Polker game itself is run on Unreal Engine 4. It features next generation Virtual Reality with stunning 3D characters and visual effects. Players will choose from 5 themes before each game. The teams will determine exciting VFX that can be won and activated by players when they win a hand.
As opposed too many other online games that feature simple, lifeless 2D gameplay, the animation and effects in Polker are an integral part of the experience. Polker supports the realism that poker fans deserve, grounded in a realistic environment and featuring a dashboard that lets them interact with their friends.
Polker will also incorporate NFT technology in its gameplay. Players will be able to earn medals, backed by NFTs, by completing challenges within their poker game. Players will be encouraged to collect all NFT cards and NFT chips by participating in gameplay, weekly challenges and weekly NFT drops.
Polker gives players a truly engaging gameplay experience by utilizing 3D animation, VFX and NFTs. However, the heart of this project is the transparency and provable fairness we bring to online gambling. Above all else, it is vital that our players know they are competing on an even footing.
About Polker
Designed to run on the Substrate Chain of Polkadot, Polker provides players with a provably fair way to play online poker. Players will choose from many different cryptocurrencies to stake their bets, even being able to change up during gameplay. By utilizing VFX, NFTs and realistic 3D animations Polker immerses players in a uniquely engaging gameplay experience.
*The article was published in www.koreaittimes.com and www.blocktelegraph.io